Dentist in Georgetown
For over 16 years, Still Waters Dental Group has been serving families in the Georgetown and Halton Hills area. Our modern, comfortable office and friendly team know how to make people feel at ease and relaxed.
We offer comprehensive dental and oral healthcare for you and your family. With a wide array of dental services, we can customize the treatment to fit your oral health needs so you can smile with confidence.
Meet the Georgetown Dentist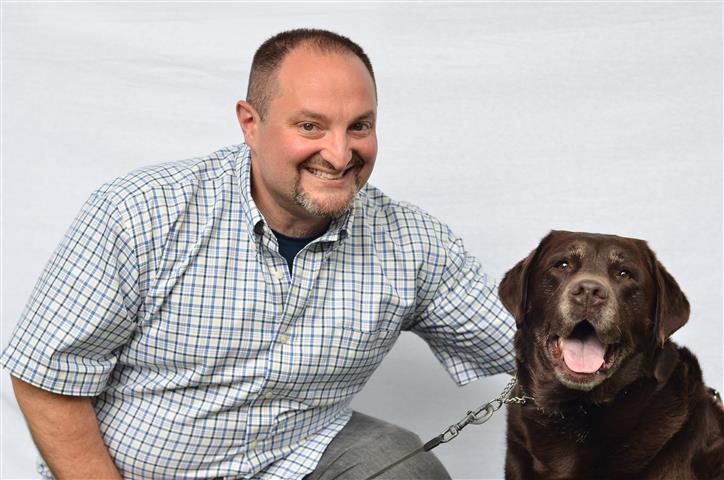 Dr. Corey Grossman
Dentist
Dr. Corey Grossman, featured here with his chocolate Labrador retriever, Cocoa, has been a dentist since 1997. With a strong sense of community and ties to charitable global work, he believes that strong patient relationships and dental education are key to long term oral health.  You can read more about his work, his passions and about the rest of the Georgetown dental team here. 
Our Clinic Address
374 Guelph St #6
Georgetown, ON L7G 4B7
(905) 702-9744
Hours
Monday 9a.m.–8p.m.
Tuesday 9a.m.–7p.m.
Wednesday 9a.m.–8p.m.
Thursday 9a.m.–5p.m.
Friday 8a.m.–1p.m.
Saturday 8a.m.–1p.m.
Sunday Closed
Dr. Corey Grossman in the news
Patient Education
Check out our patient education section here where Dr. Grossman, Georgetown dentist, explains common dental issues.
Dentistry Services
Still Waters Dental Group is a dentist in Georgetown Ontario. We provide modern family and cosmetic dental care for patients of all ages in Georgetown and Halton Hills. We are proud to offer patients with convenient selection of dental services, some of which are listed below.
Book an Appointment
Whether you are in pain or just need a checkup and dental cleaning, request your appointment with us and we will take great care of you and your family's dental needs.
What Sets Our Clinic Apart
Trusted by thousands of Georgetown families over 16 years
Our dentists have long standing relationships with our patients and community that go back to 2006.
Convenient Hours
Book an appointment from am to pm, open 6 days a week for your convenience.
Belief in Oral Health Care Education
The more patients are educated about their overall health, not just their oral health, then they can make the best decisions in their day to day lives.
Here's what some of our patients think of our Georgetown clinic
Carolyn Callero
March 23, 2022.
Dr Grossman and his team have consistently provided my family with high quality dentistry and care. I would say they as a whole have a really big heart and truly care about their patients! I would highly recommend booking an appointment or drop in to see their awesome office! Just had another cleaning and always and amazing experience! Again & Again The Best Dental Office EVER !!
Luis Diaz
September 16, 2021.
The best dental care for families. Latest equipment, extremely pleasant staff. No hidden fees and no calls every week to book unnecessary check ups. You will leave with a smile in your face😁
Christopher Crane
January 6, 2021.
My entire Family including Parents in Chatham, Brother's Family in town, and now even my cousin see Dr. Corey and only ever hear great things. The clinic is welcoming, relaxing and hi-tech. My children Nya (11yrs) and Ethan (9) see Dr. Corey regularly and are excited to see him and go for a ride in the chair. We cannot say enough about him and his staff.
Mario Armoutoglou
December 11, 2020.
Professional services in a state of the art environment. Very much satisfied.
Josh Reyce
November 4, 2020.
For someone who is from a old Georgetown family and grew up using the same professionals that your parents and grandparents used, I found it very hard once I started my family because most of these people like Dr. Panabaker, Dr Zelek and others alike, who worked their entire professional careers living and working in Georgetown had either passed on or retired and there were no what I would call Georgetown people to go too. So we did what most would have to do we tried places we heard other parents talked about and in the ended up at a practice we heard about from others, although never truly happy we stayed for most of our kids childhood. I recently had the pleasure of meeting Dr. Corey Grossman and have had the time to really get to know him and based on how much we liked him as a person we switched all of our family members over to his practice. I could never have imagined how amazing the transition would be and I am so thrilled to find out that the kind of dentistry I grew up with in Georgetown can still exist, because all the places we have used in the last 20 years made me lose hope. Dr. Grossman has completely exceeded all of our expectations and will be our Dentist and our adult children's Dentist as well, which is the way it should be here in Georgetown. Dr. Grossman thank you so much for taking care of my family. I would highly recommend Dr. Grossman too any family here in Halton Hills, he is a true throw back to the personalized services you should get and expect in small town living! Josh Reyce
Jennifer McLauchlan
February 26, 2020.
Dr. Corey is amazing. He is thoroughly professional and well liked by my children - even when he has to pull teeth. I would recommend him to anyone looking for a friendly, smart, kind dentist.
Maxx Scholz
February 12, 2020.
Recommend Cory and his staff. Great work and always helpful
William Hiller
February 6, 2020.
Dr. Grossman and his staff are an amazing group of people. He helped me fix my aching tooth and his staff are friendly and knowledgeable. I would recommend Still Waters to anyone looking for a dentist.
I don't have any words to explain how lucky we are to have found Dr. Grossman at Still Waters Dental Group! Professional, knowledgeable, has an amazing bed side manner and after 20 years we finally found the perfect dentist! I had two different dentists and a few years in between working on what Dr. Grossman fixed in less than an hour!!! We are impressed to say the least! 🙂 Thank you Dr. Grossman!
Dental Affiliations
Our Georgetown dentists are affiliated with the following organizations: