Dentist in Georgetown
For over 16 years, Still Waters Dental Group has been serving families in the Georgetown and Halton Hills area. Our modern, comfortable office and friendly team know how to make people feel at ease and relaxed.
We offer comprehensive dental and oral healthcare for you and your family. With a wide array of dental services, we can customize the treatment to fit your oral health needs so you can smile with confidence.
Meet the Georgetown Dentist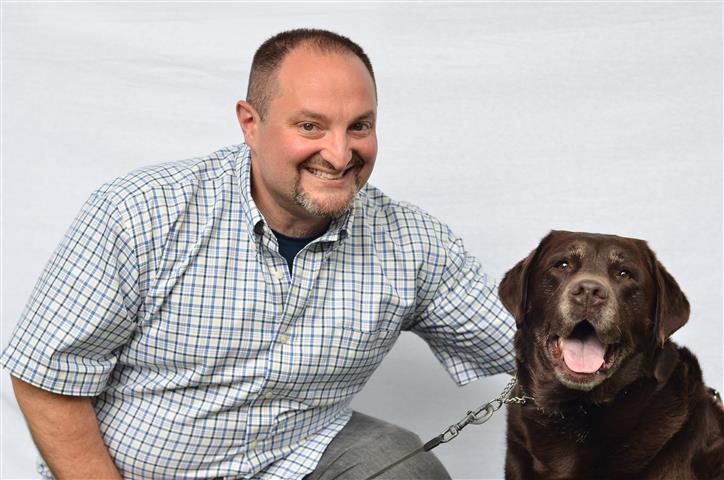 Dr. Corey Grossman
Dentist
Dr. Corey Grossman, featured here with his chocolate Labrador retriever, Cocoa, has been a dentist since 1997. With a strong sense of community and ties to charitable global work, he believes that strong patient relationships and dental education are key to long term oral health.  You can read more about his work, his passions and about the rest of the Georgetown dental team here. 
Our Clinic Address
374 Guelph St #6
Georgetown, ON L7G 4B7
(905) 702-9744
Hours
Monday 9a.m.–8p.m.
Tuesday 9a.m.–7p.m.
Wednesday 9a.m.–8p.m.
Thursday 9a.m.–5p.m.
Friday 8a.m.–1p.m.
Saturday 8a.m.–1p.m.
Sunday Closed
Dr. Corey Grossman in the news
Patient Education
Check out our patient education section here where Dr. Grossman, Georgetown dentist, explains common dental issues.
Still Waters Dental Group Awards
Dr. Corey Grossman and his team at Still Waters Dental Group have been selected as the Readers' Choice in Georgetown for the platinum award for dental services in 2023. 
Still Waters Dental Group maintains the highest commitment to their patients and their patients' health.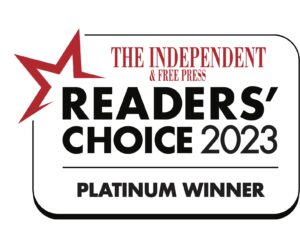 Dentistry Services
Still Waters Dental Group is a dentist in Georgetown Ontario. We provide modern family and cosmetic dental care for patients of all ages in Georgetown and Halton Hills. We are proud to offer patients with convenient selection of dental services, some of which are listed below.
Book an Appointment
Whether you are in pain or just need a checkup and dental cleaning, request your appointment with us and we will take great care of you and your family's dental needs.
What Sets Our Clinic Apart
Trusted by thousands of Georgetown families over 16 years
Our dentists have long standing relationships with our patients and community that go back to 2006.
Convenient Hours
Book an appointment from am to pm, open 6 days a week for your convenience.
Belief in Oral Health Care Education
The more patients are educated about their overall health, not just their oral health, then they can make the best decisions in their day to day lives.
Here's what some of our patients think of our Georgetown clinic
Z. Huang
December 17, 2022.
The staff are nice and helpful, and the appointment is always on time.
Mark Anderson Dann
December 16, 2022.
I definitely recommend coming here
Anita Huggins
December 15, 2022.
Dr. Corey and his team provide a professional, consistent and friendly dental experience at each visit. A great family dental practice.
Ingrid Pyke
December 15, 2022.
Dr. Grossman and staff are the epitome of excellence in patient care. They make it a stress free experience from beginning to end. Reception are friendly and accommodating, hygienists are experienced and thorough, and Dr. Grossman is highly skilled, explains procedures in detail, offers after hours support for major dental work if needed, a generally makes dental work a stress free experience. Highly recommended.
Sandy Medeiros
December 15, 2022.
My experience has been really nice everyone is super nice and they do a great job on my family teeth
Doug Lounsbury
December 14, 2022.
I have been a patient of Still Waters for the past 10 years. Not only is it a welcoming space but the professionalism of the staff sets you at ease. I am confident that your experience will be top notch as well
Nora Kane-Fedchenko
December 14, 2022.
The staff are all so welcoming and made me feel comfortable and relaxed every time I visited. Sharing their lives and themselves with me made me feel at home, and helped at calming the ever present 'dental anxiety'. I always recommend Still Waters Dental when anyone asks.
Kim McMahon
December 13, 2022.
Only 4 stars because room 4 is freezing!!!!
Lois Dickson
December 13, 2022.
I can't say enough good things about Dr. Catherine. Gentle, caring and professional. For a nervous dental patient I am so happy to have Dr. Catherine to depend on for my dental health. Thank you🥰
Timmy Jesso
December 13, 2022.
I've been a client of Corey's for years. He is very informative and gentle and he once gave me a bag full of dental floss. The staff is exceptional and very friendly.
Dental Affiliations
Our Georgetown dentists are affiliated with the following organizations: