There is a lot of confusion surrounding the Halton Hills, whether places like Georgetown are the same as Halton Hills or in fact aspirate town of their own. It is no wonder that it can be confusing, especially if you look at the history of the area.
Georgetown itself got its name in 1837, named after one of the early settlers George Kennedy, likewise other early communities such as Esquesing Township developed for 150 years as autonomous, self-led communities. However, the confusion really starts in 1974, when the various small townships in the area, including Georgetown, amalgamated to form the Town of Halton Hills.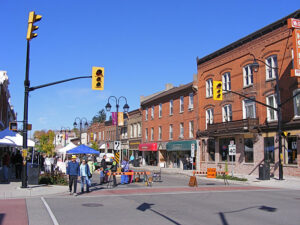 Balcer, CC BY-SA 3.0 <http://creativecommons.org/licenses/by-sa/3.0/>, via Wikimedia Commons
Halton Hills
Halton Hills is the established town that encompasses the various communities in the area that were separate entities until 1974. These are Georgetown, Acton, the majority of Esquesing Township and some parts of Oakville that sit north of Highway 401.
Halton Hills forms the central administration centre for the various communities, with each ward (Acton, Georgetown, Esquesing) having councillors voted to that central organisation. This approach allows for mor efficient governance of the area by combining the resources of each community, but without losing the essence of what made them so special in the first place.
Georgetown
While local government is now centralised in Halston Hills for the communities in the area, Georgetown remains the same as it always was. A growing community by the creek that has a wonderful, old-style central region with a range of housing developments that offer quiet neighbourhoods, larger than average housing for the region and great amenities and transport links.
It retains its sense of community and uniqueness that have defined Georgetown throughout its life. It is still the town it has always been, but since 1974, has been a part of Halton Hills as well.
Unravelling the confusion
It is easy to see why it can be confusing, Georgetown had been a settlement in its own right since 1819, taking the name Georgetown in 1837. Across the region, and thanks to its exports the country and beyond, Georgetown was known for being the community alongside Silver Creek.
By amalgamating, suddenly the entire area became Halton Hills, yet still goes by the name of Georgetown. The easiest way to unravel it is to think of Halton Hills as a governance entity. For the various communities that amalgamated, it was simply more efficient and effective to have one entity for local governance, and that is why Halton Hills was created.
Georgetown was, and remains, the township that people have been falling in love with for 200 years. The community and township is Georgetown, the Town itself is Halton Hills.
In practice, residents and visitors to Georgetown won't notice the separation, and Georgetown continues to go from strength to strength, with its mix of quiet neighbourhoods, impressive amenities and wonderful location. Georgetown is a wonderful place, it just happens to be part of Halton Hills as well.