Georgetown is a wonderful place to spend time, with so much to see and do. But if you are just visiting, or want to know what the best thing to see first is, your dentist in Georgetown put together their choices for the best three points of interest in Georgetown Ontario today.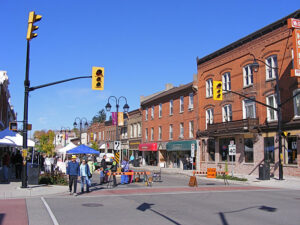 Balcer, CC BY-SA 3.0 <http://creativecommons.org/licenses/by-sa/3.0/>, via Wikimedia Commons
Silver Creek Conservation Area
There are many parks and green spaces in and around Georgetown, and you can enjoy a relaxing time without ever venturing far. However, the Silver Creek conservation area is definitely worth visiting if you really want to experience the best nature has to offer.
Covering 1,086 acres, with its wooded paths and more, it is a true wilderness just minutes from Georgetown itself. Silver Creek was the site of the original settlement that ultimately became Georgetown, but this historical site is all about the natural world. There are a number of established trails to follow that take you through dense woodland, past streams and creeks and just enjoy being out in nature away from the world.
It is open year round, and while some trails are inaccessible, a winter walk in the forest is something to enjoy. Take a camera to capture the amazing plant and wildlife, it is a really special experience.
Georgetown Farmers Market
If nature isn't your thing, try Downtown Georgetown every Saturday morning and see what is on offer at the Farmers Market on Main Street. Here you will find a range of produce and other goods from local suppliers, including farmers, artisans and craftsmen. Fresh, delicious food is just one of the attractions though, and the Farmers Market is a chance to see first hand why Georgetown is a such an incredible community.
Visiting the stands that are situated down the centre of Main Street also gives you an opportunity to explore the shops and admire the architecture of this, the oldest part of the town. Events are held all through the summer too, with family friendly activities, dog days for your pets and so much more. There is always something going on, Farmers Market is more than a chance to buy some fresh produce, it is an experience in itself.
The Furnace Room Brewery
Even for those who prefer grape based drinks to those created from hops, the brewery tour is a fascinating experience. The team walk you through everything from the raw materials to the finished beer, with a tasting session to finish the tour.  A new addition to Georgetown, launching in 2018, the Furnace Room Brewery is a functioning brewery, an event room and a bar, where you can watch sports, take part in trivia quizzes and just enjoy your evening.
It is a great example of the essence of Georgetown, fun, original and community driven. Whether outside enjoying the sun or inside watching a game, there is nothing quite like the shared experience of watching your team lose with others. Sometimes, you might even see them win. Covering Hockey, Baseball, Basketball, Football and Soccer, whatever your sport, there is a game night for you.
These are just some of the things you can do in Georgetown. With its history, natural surroundings and so much more, whatever you enjoy, there is something for you in Georgetown.