Georgetown has so much to offer for anyone looking for a new place to live. Whether you are seeking the perfect home to commute from, somewhere to raise a family or the ideal retirement location, the mix of history, nature and amazing community has something for everyone.
But once you have decided to look for property in Georgetown, where are the best places to live? While it is easy to say there are no bad locations in Georgetown, some neighbourhoods have more to offer than others, here are our dentist in Georgetown picks for the top three neighbourhoods to consider when moving to Georgetown.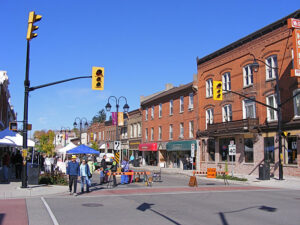 Balcer, CC BY-SA 3.0 <http://creativecommons.org/licenses/by-sa/3.0/>, via Wikimedia Commons
Delrex
Built in the 1950s and 60s, the name is a combination of Rex and Delma, the names of the builder and his wife. Homes here are varied, from bungalows and split level homes to more traditional two story options, but all have one thing in common. Large, spacious lots. Homes here tend to be larger than average, and that makes them a wonderful option for raising a family.
It doesn't stop with the houses themselves, it is a quiet neighbourhood with broad, tree lined roads and easy access to highway 7 and the Georgetown GO Station. Cedarvale Park sits in the edge of Delrex too, a great place for a Sunday picnic, and you are just a few minutes' walk away from Downtown with its mix of shopping, culture and beautiful historic buildings.
It also has excellent elementary and secondary schools including several that offer French immersion.
Trafalgar Country
One of the later developments of Georgetown growth, beginning in the 1990s and through the turn of the century, this is a quiet, relaxed neighbourhood mostly consisting of large, detached 2 storey homes. There are some bungalows here too, but large lots and spacious accommodation is the general theme for this neighbourhood.
Parkland intertwines with the neighbourhood, giving you walking and cycling trails right on the doorstep, as well as places for picnics, chidren's activities and a large pond. You are never more than a short walk from nature in Trafalgar Country.
With its shops, restaurants and highly rated schools, you have everything you need all within the neighbourhood itself, while an acclaimed golf club, North Halton, is only a few minutes away. The fairgrounds, home to many events year round, and the hospital are also within easy reach.
As with most areas of Georgetown, you are within easy reach of highway 7 for commuting, and the shops and culture of Downtown are within walking distance.
Park District
One of the most sought after neighbourhoods in Georgetown, Park District sits next to the Georgetown Fairgrounds, and includes a mix of older homes and sympathetic new builds that retain the architectural appearance of the existing properties, creating a cohesive look.
Lots are large, and many of the existing houses have been extensively remodelled to take advantage of that space, providing wonderful family homes. The tree lined streets and extensive parklands give this neighbourhood a relaxed feel, and despite being just a short walk from the centre, it remains quiet and peaceful.
There are several excellent schools to serve the community in the Park District, and this is a neighbourhood that puts you at the heart of the many events and activities that take place in Georgetown throughout the year. The Farmers Market, shops and more are all close by, and travel links are good too, with Highway 7 close by and the Go Station easily reachable.
These three neighbourhoods give you the very best of Georgetown, each having their own charms as well as all the benefits of Georgetown itself. The great community and beautiful surroundings make Georgetown a wonderful place to live, and there is a neighbourhood just right for you too.